editor
Mon, 12/28/2020 - 10:36
2020 eh?!  How's that been working for you?   What a time to be alive!?
Our 'A' Cat year started out so well….  The traditional year opener of the AUS Nationals were held this year in Paynesville, Victoria, and right in the middle of historically huge catastrophic bushfires that could be seen from space and resulted in the sad demise of billions of animals.  It's sobering to think that would now be considered the feel good story of the year.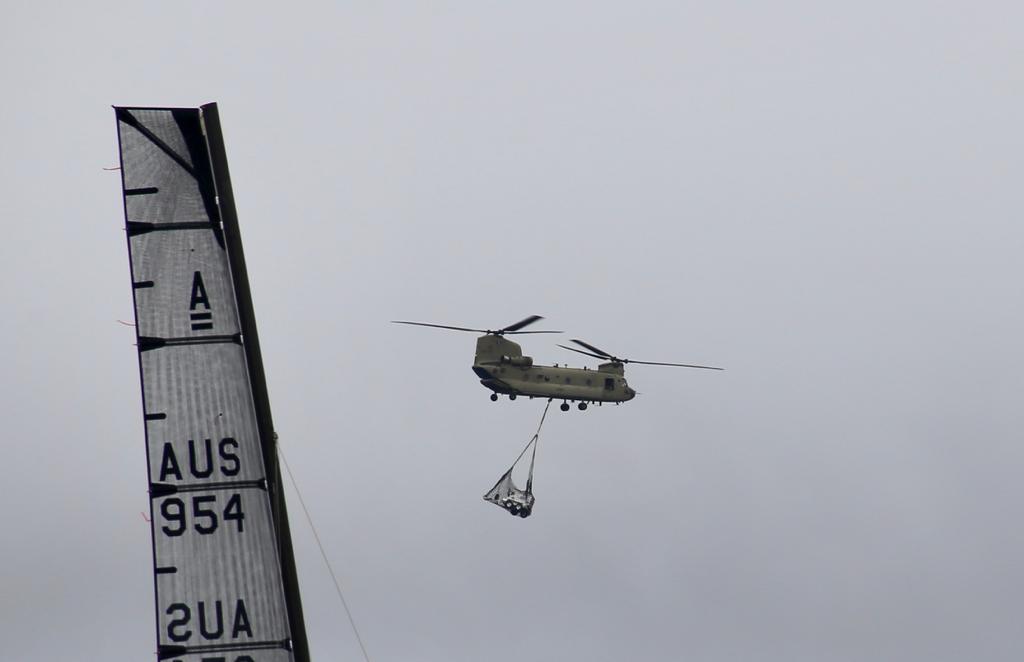 As a result, the AUS Nationals saw a lower turnout than usual, as many sailors were unable or unwilling to get there as the fires were in their way.  In the end, although some races were abandoned due to poor viz or bad air quality.  Helicopters were frequently seen over the course ferrying loads and supplies to the firefighters.  Despite this, the PROs managed to get 10 good races in, with Darren Bundock clinching another National Open championship win in the final race, and Andrew Landenberger dominated to again become National Champ in the Classic fleet.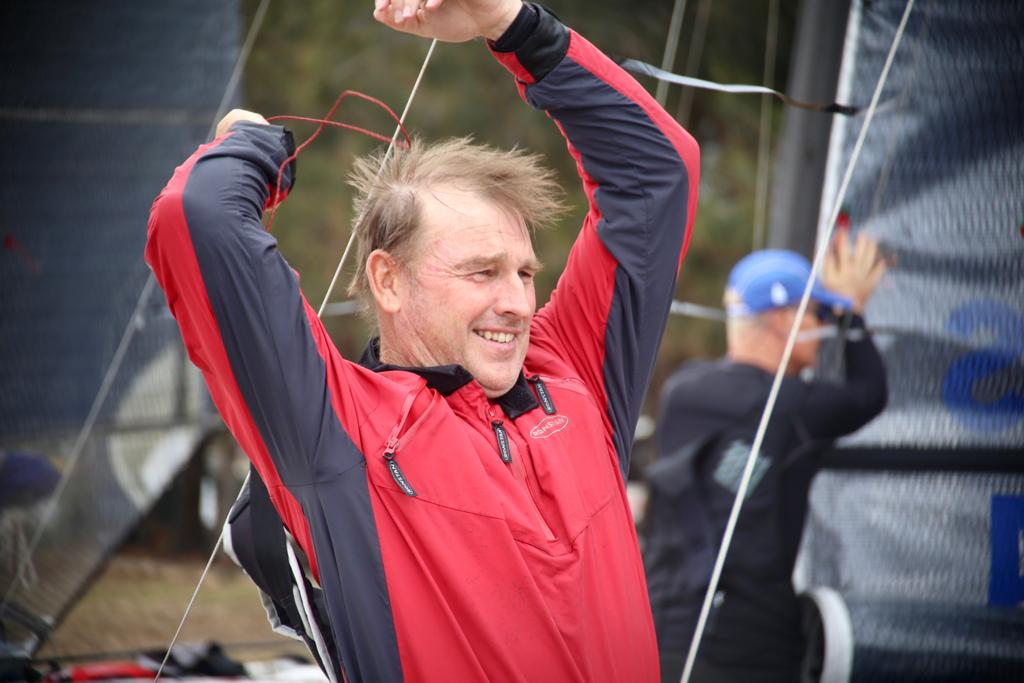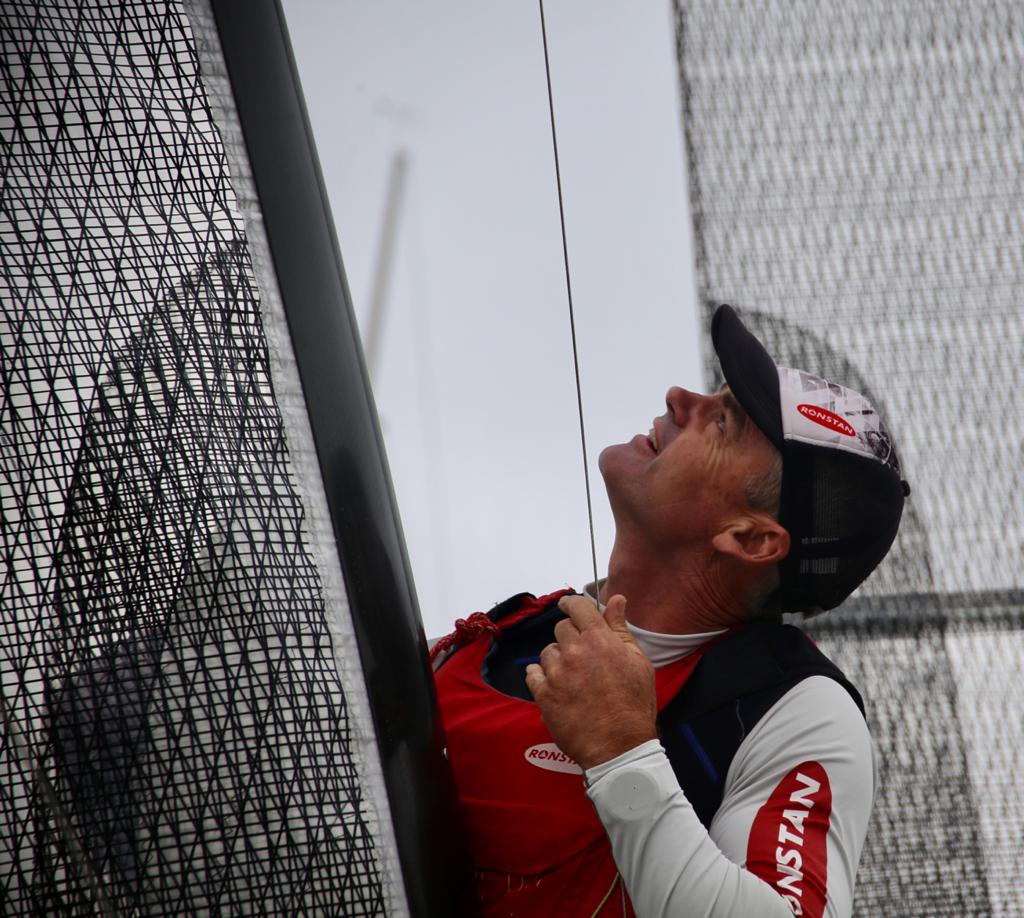 A few weeks later, it was the Kiwi Nationals, held in the beautiful environs of the Bay Of Islands at the Waitangi YC.  In a combined class regatta with the Wazsps, NZL legend and World No. 2, Dave Shaw, won his 6th title in the Open fleet, with Tom Block in the Classics.  Being remote from the World has it's advantages, as the NZL sailors managed a near full sailing calendar this year.  They also had the first female sailor in the shape of Danielle Haylock, although she had a sticky start when as she brought her boat home after buying it, she was hit by a speeding car trying to evade the cops, and the boat written off.  Stuan Wallace can offer advice in such an event!  All good now though, she just got another.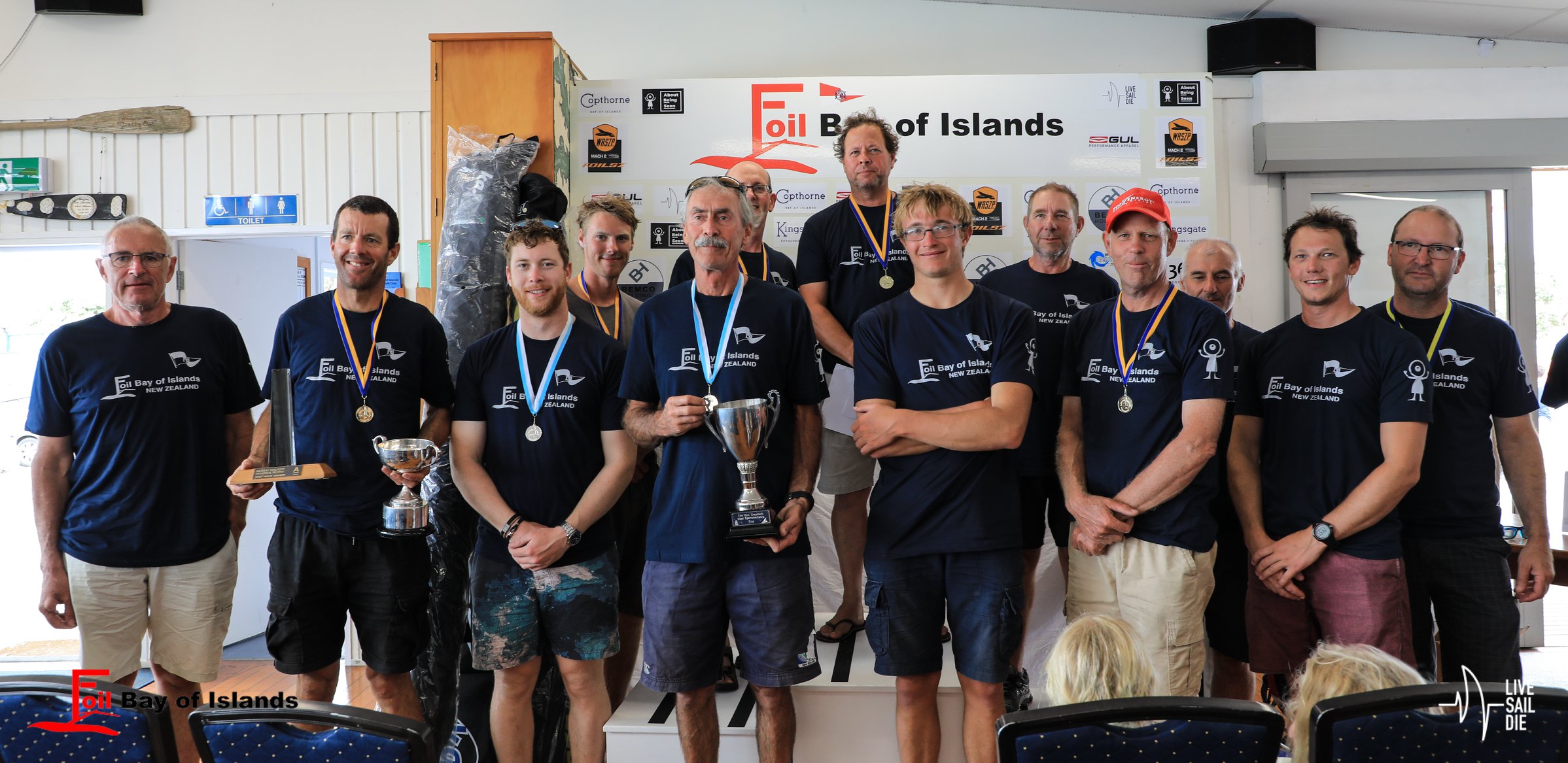 The new Classic trial rules were introduced in February, and has now been voted on by the IACA committee. It has now to be sent off for a world-wide ballot and then for the approval by World Sailing.
Things then started to go rather quiet.  The ARG sailors suffered as their country had a severe lockdown, meaning very little opportunity to sail at all.  Most of Europe was then also locked down and in many cases, some boats never even emerged from hibernation at all.  Then at the end of March it was sadly announced that all international official events were postponed for the year.  A sensible, but disappointing decision by all involved, particularly after all their hard work. 
Most sailors then just sat through some perfect sailing conditions, thinking what might have been.  It was not really until later in July that things started to be eased for some of the European associations, although, the POL sailors managed to sneak in an event in June at Sopot, followed by the NED association with their  first 2020 Hellecat event.   Many others had restarted sailing, but in small groups or singly at their clubs.  Then other events started to happen again in early August.  
The DEN association managed their Nationals at a combined class event in Skovshoved Havn in hot but drifty conditions at their Highlander Cup.  Odd name really, as Highlands are not something you would normally associate with Denmark!.  Thomas Paasch manage to drift over the line more often that the rest to become the DEN Champion. Meanwhile, again at Hellecat, the lucky NED sailors had another event with their Challenger Cup.  Over the other side of De Bron, the SWE sailors suffered as they had no regattas, domestically and a fall in sailors.  Most sailors got their sailing in other international events this year.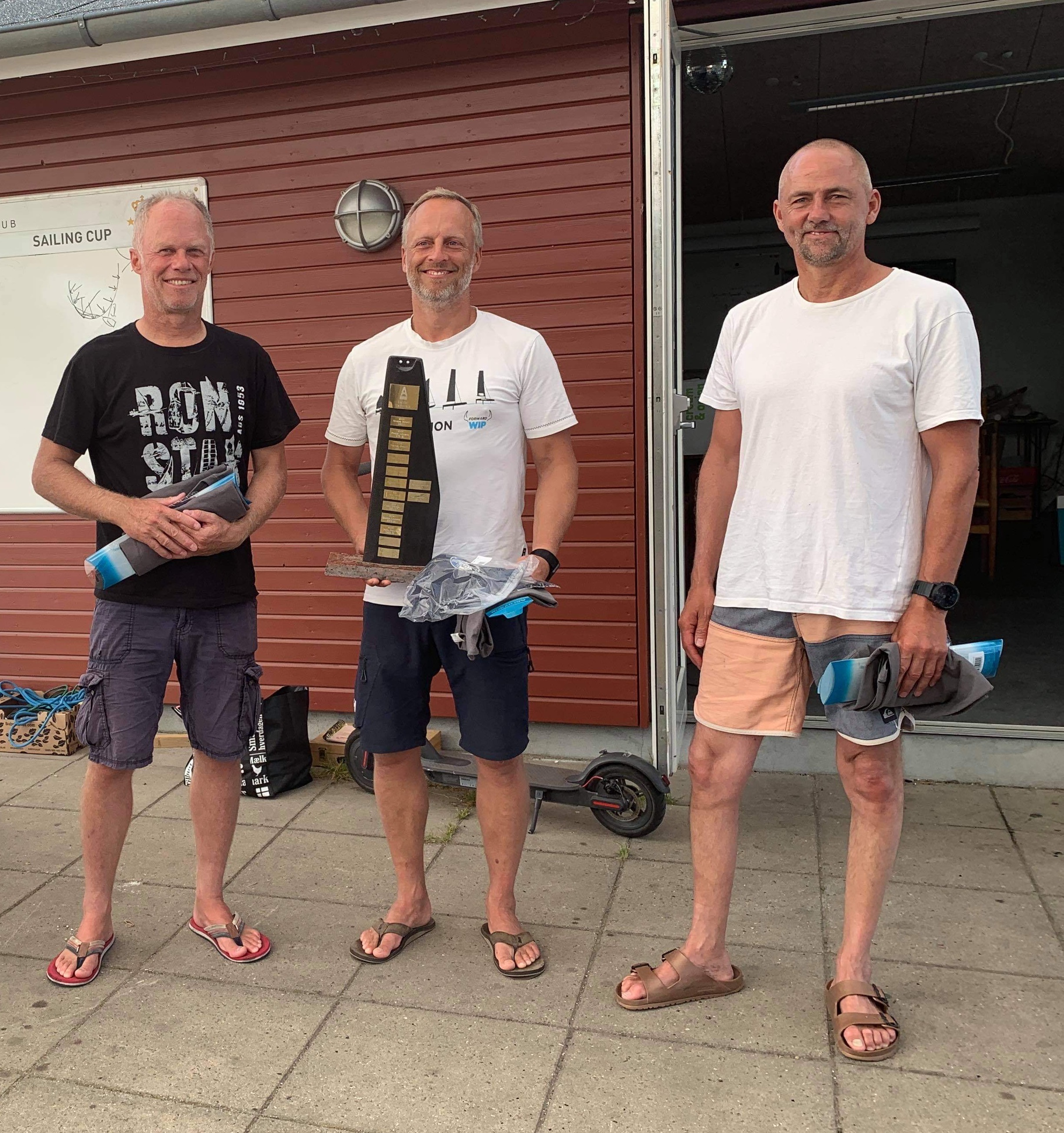 A couple of weekends later, POL Ace Kuba Surowiec managed the wildly differing wind conditions, ranging from drifting to full on the upper class limit, over the three days at Sopot to become the POL Champion in some closely fought racing action.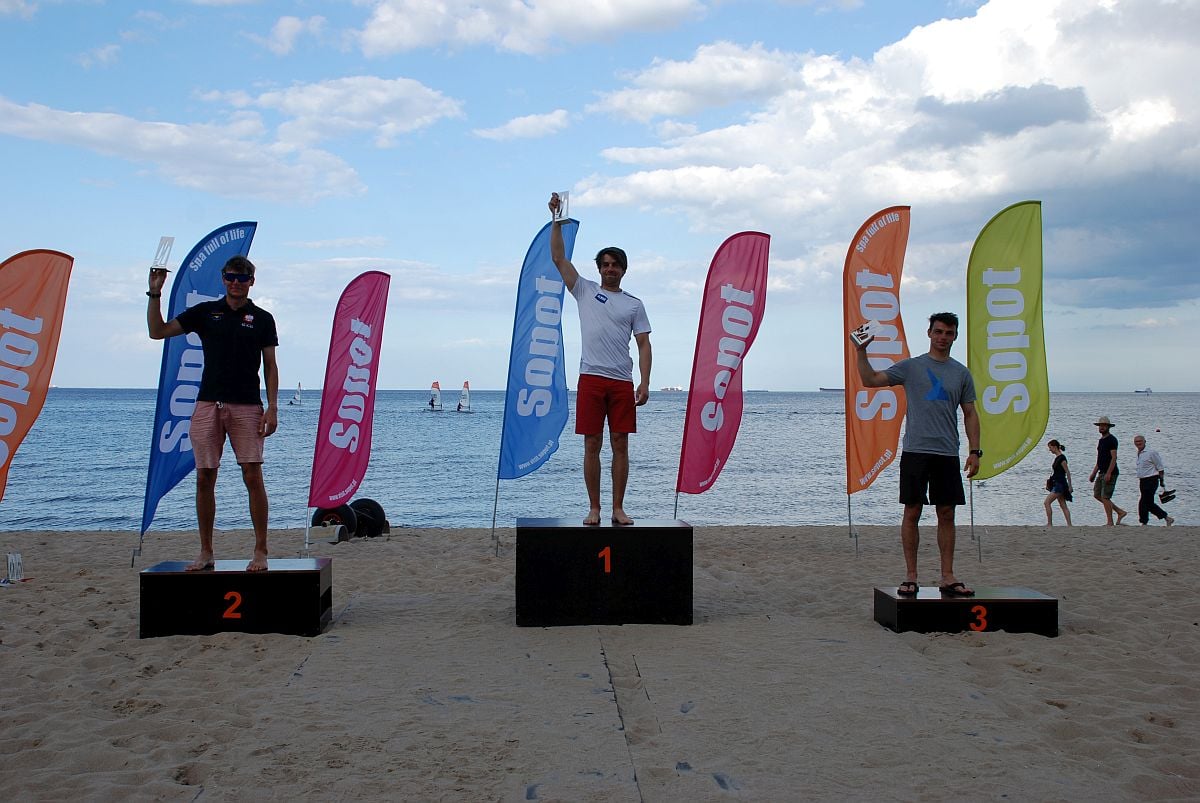 The only large event of the year in the end was the 4 Nations Cup in early Sept. at Hellecat.  One of several events at the venue for the fortunate NED sailors, as that was the only place they took place.  This event, designed to be a combined Nationals, turned into the 3 Nations cup after the GBR team were prevented from attending by a travel ban ordered by their government, although one rogue GBR sailor, who was in France already, made it there.  It was touch and go as to whether would be held, but in the end a great event happened, with 60+ boats ended racing.  Mischa, (who else?)  won the Open, and thus the NED National championship in fine style.  Emmanuel Dode, who's own FRA Nationals would later be cancelled was 2nd.  Klaus Raab finished as the first GER sailor, and was crowned their Open champion.  Patrick Demesmaeker, the only BEL Open sailor. Became theirs.   Micky Todd won in the Classic division overall.  Jaap Strakenbroek came 2nd, and thus NED Classic champ, Michel Warlop was next to become BEL Classic champ, and then came Christian Stock as the GER Classic champion. This was the olny event BEL sailors could really attend this year.  It was therefore doubly unfortunate that 4 of their number, plus a few others,  had their trailers broken into and sailing kit taken, resulting in them abandoning the event.
This was one of very few GER events this year. There were none on the South of the counry this year at all, but a few sailores did manage to travel to nearby countries to attend regattas.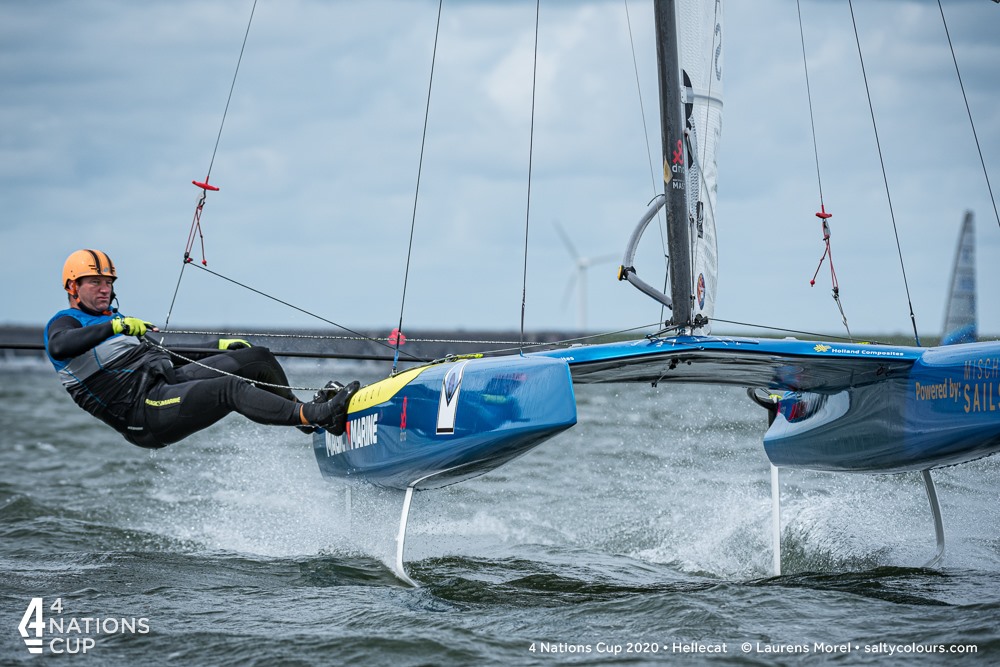 September seemed to be the only window of opportunity for several associations to get championships held.  The GBR event was hastily organized to be incorporated into the Weston Cat Open, on Southampton Water with a week to go.  On a weekend where the offshore windy Saturday became a total 'Gust City' but the Sunday winds eventually dropped to a virtual crawl,  it was won by Hugh MacGreggor in the Classic fleet.  Too few Open boats could enter to make it a championship for their division unfortunately.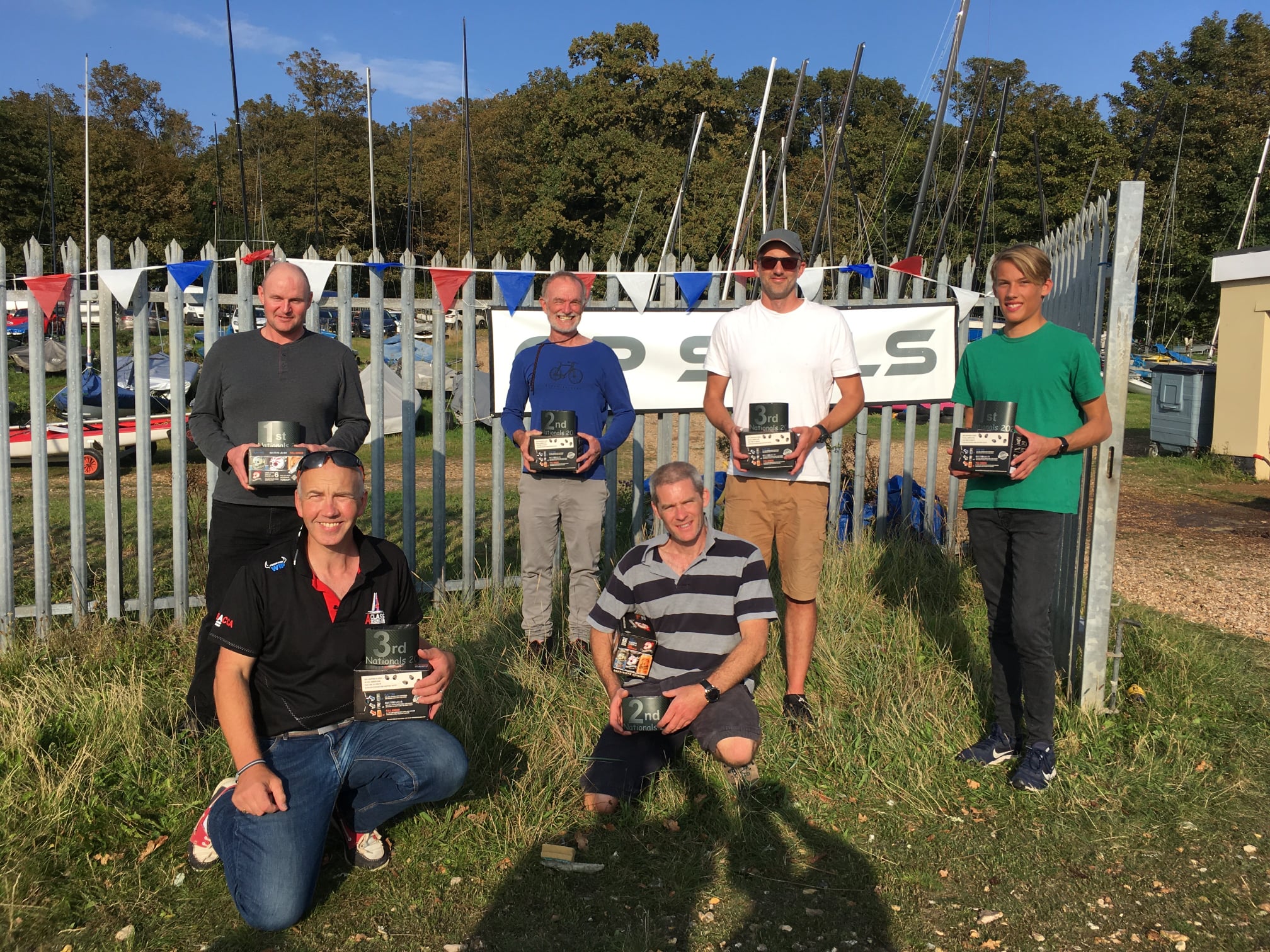 The SUI Nats too place at Bevaix, a venue change as Toulon was locked down.  In light airs, Robon Maeder retained his title with some great tactical sailing and light wind technique. The SUI sailors only managed a couple of regattas this year.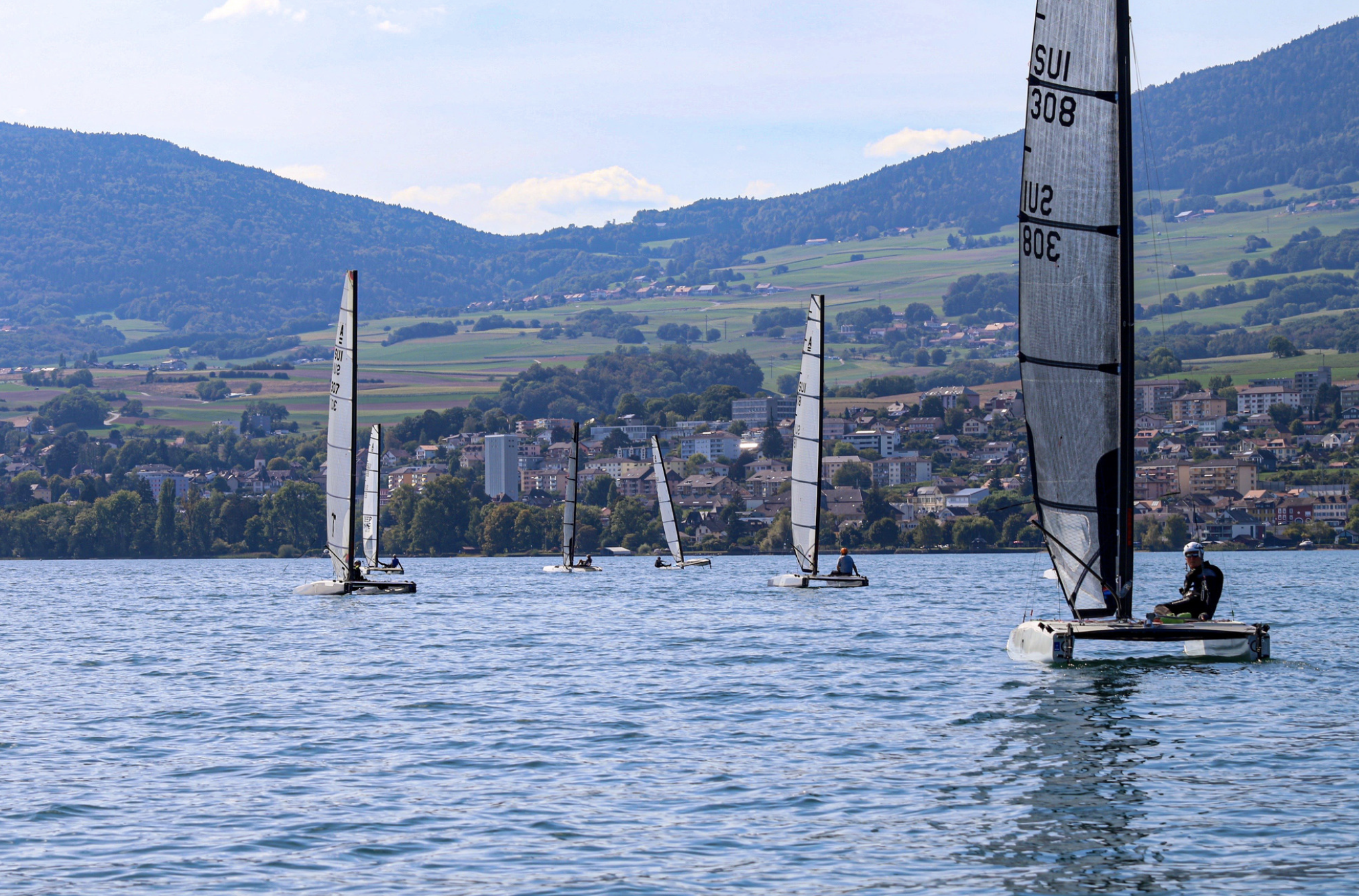 The ITA Nationals took place at Univela SC, opposite Malcesine on Garda.  Friday was abandoned with too much wind.  Saturday managed 3 races, Sunday saw one race, the no wind.  The event was won by Bob Baier GER, but Paulo Penco was crowned ITA Open Champion and Alessandro Rossi snuck in as Classic Champ by a single point. Being locked down in the country, they were finally allowed out in Early July, so made the most of it where several ITA sailors travelled to neighbouring counries regattas as well as a few of their own.  Their fleets isn't helped by the 'Great Schism' continuing where there now exist 2 associations, when the Open and Classic fleets suffered a breakaway of some of, but by no means all, their Classic sailors a few years back to form the Italian Classic Association.  Attempts are being strenuously made to try and regoin the two sides, so hopefully we will see at least some joint events next year.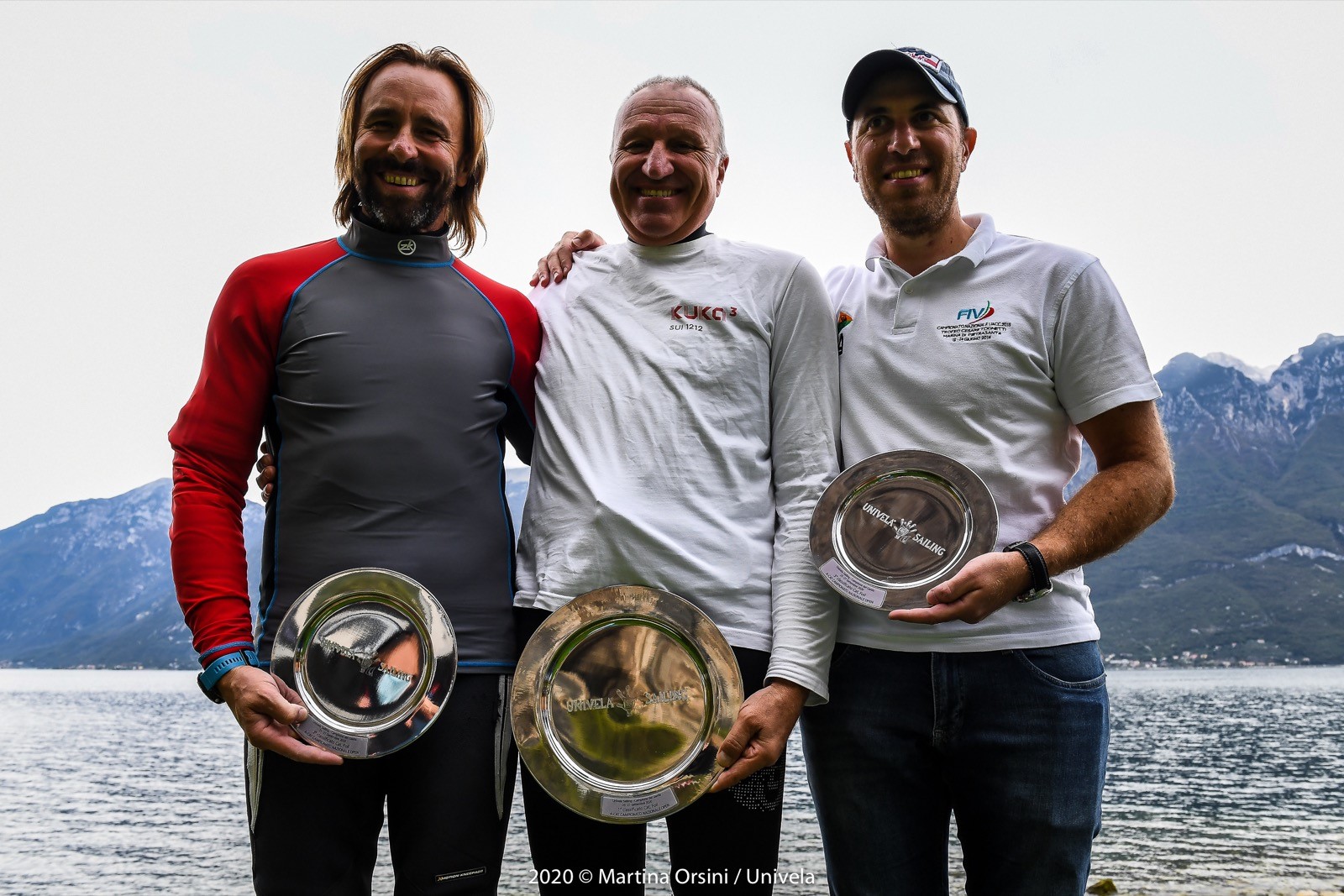 Over in the USA, their championship was due to be the warm-up act for the 2020 Florida Worlds.  But, they became an early casualty of the COVID situation.  The continental size of the place means they have several events spread around.  However, this year, Bruce Mahoney organized a Virtual Regatta, whereby sailors submitted verified times and distances in an innovative attempt to hold some sort of competition.  The event allowed them to have a whole host of categories and prizes contained therein; from outright speed (Riley Gibbs @  29.6kts), to most distance sailed  (Ben Hall @ 371 miles) and right down to 'Most In Need of New Rigging' (Seth Herzon).  It has just been announced that the pland rescheduled USA 2021 Worlds has been cancelled.  This is indeed unfortunate for Emmanuel and his organising team as the event has to be relocated for 2022.  The calendar has yet to be confirmed so far.  Hopefully it can be reloaded in a couple of years time.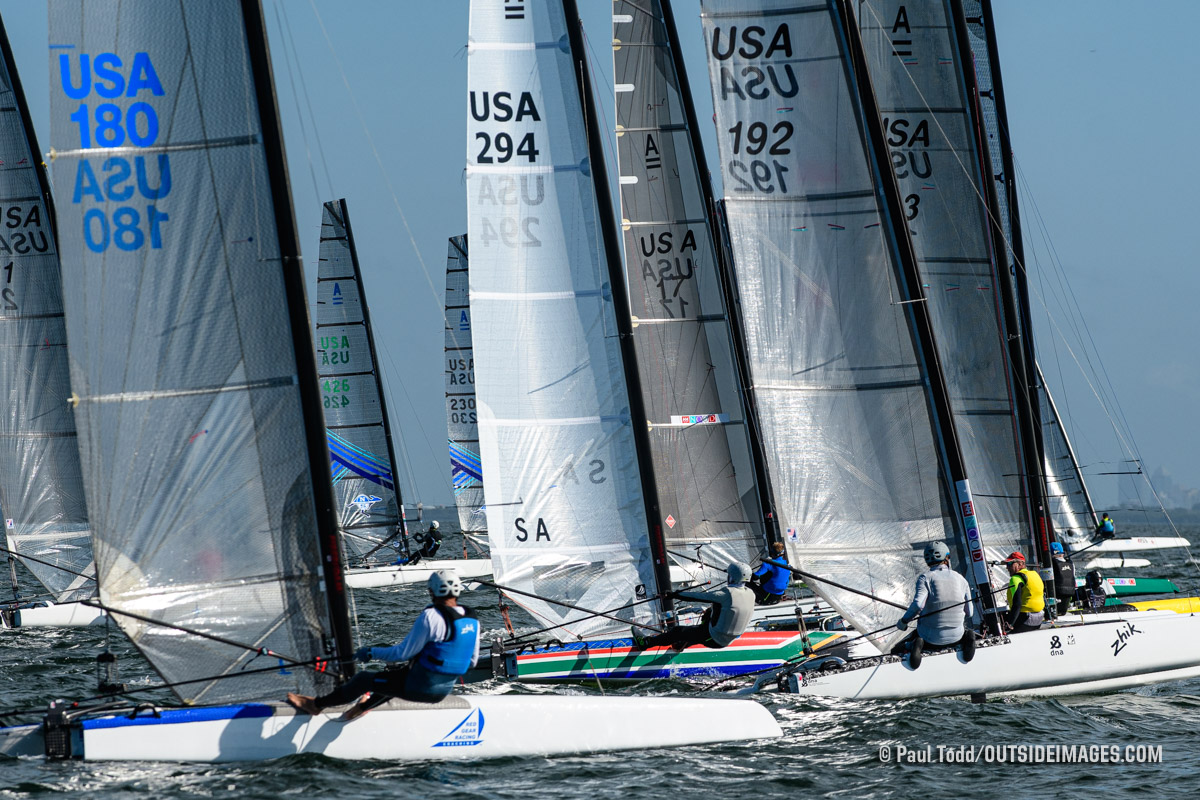 The ESP Association struggled this year and the Europeans due in Cadiz became a victim, but they finally held their Championships with a mixed fleet event on the Mar Menor in a variety of wind strengths to test the sailors.  Manuel Calavia retained his Open title, and Mickey Todd was the Classic champ.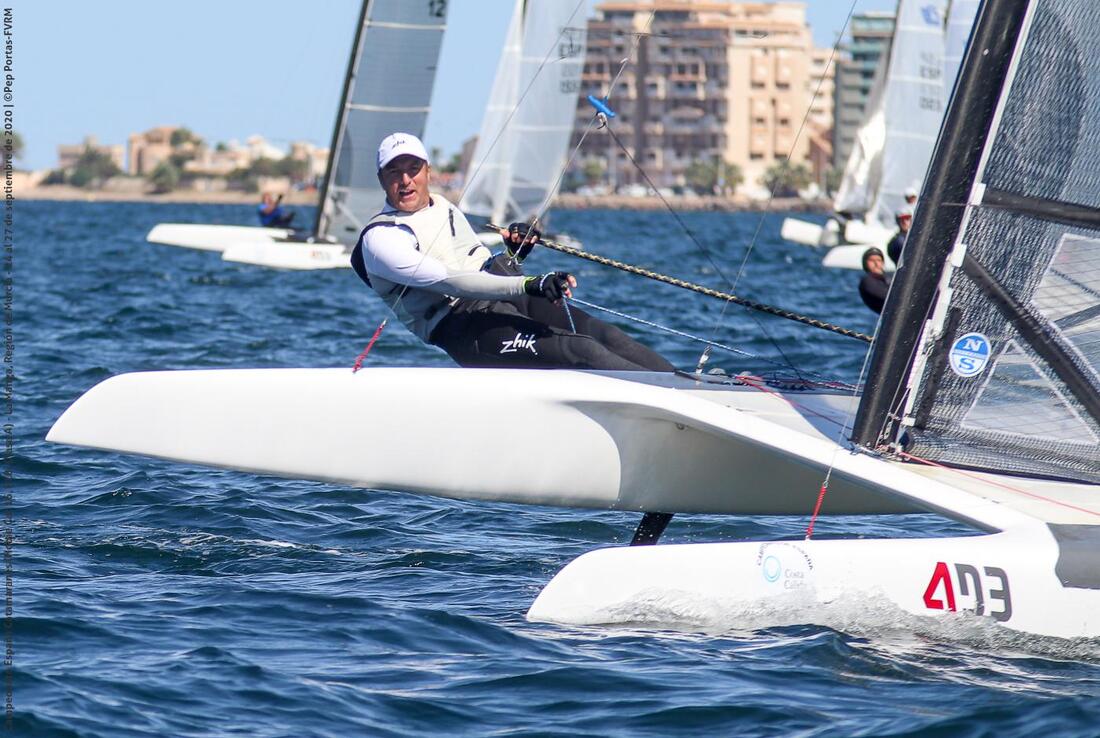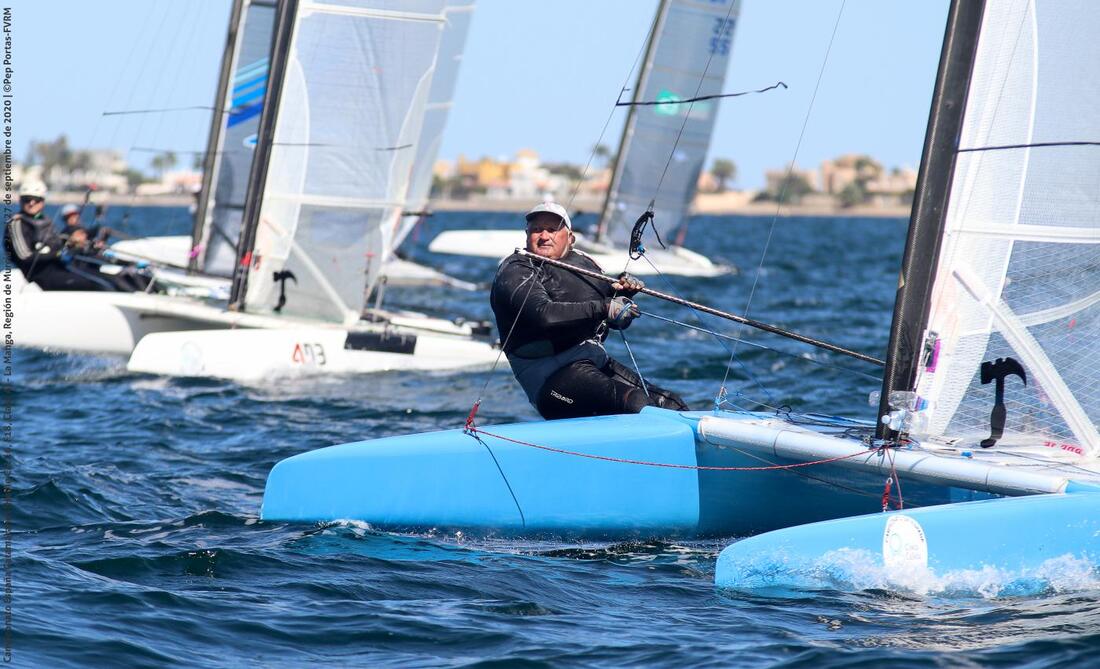 The final Championships tend to be the FRA sailors.  Unluckily, their October event was canned by their National Sailing Body, mere days before it was due to happen at Maubuisson.  This year was really catastrophic for the FRA fleets, with all but 4 regattas cancelled and many members not rejoining in their largely Classic fleet.
As the World became locked down again, it was announced that the retiring (That is he is stopping his work, not in the shy and quiet meaning of the word!)  AUS  President, Ian 'Storm' Johnson was awarded a well deserved Lifetime Achievement honour by Australian Sailing for his work in the class.  The new AUS president is the equally retiring Paul Neeskins, so we wish them all luck!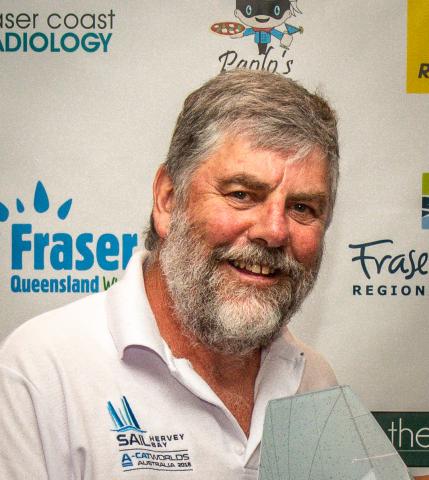 It is sad that we have not had the sailing we should have had this year.  Our thoughts must go out to the 'A' Class sailors who have either been lost, or have lost loved ones as a result of this pandemic.  However, we shall arise newer and stronger in 2021, and we all look forward to meeting our old friends on the shore and the water.
Have a great New Year, but please Stay Safe!  
Photos - Helena Darvelid Sailrocket, Rachel von Zalinski LiveSailDie, Swiss Mathilde, Rafal Czepulkowski Fotosurf, Laurens Morel Salty Images, Gordon Upton Guppypix, Martina Orsini, Paul Todd Outside Images, Press Championship of Spain Catamaranes,