editor
Mon, 10/25/2021 - 11:21
National Class A – October 20 to 23, 2021 – Carcans-Maubuisson. Jacques Valente reports.
As usual, the national event took place on this magnificent site on the waters of the Cercle de la voile de Bordeaux. An exceptional attendance with no less than 48 registered boats – from several countries – France – Spain – Germany – Switzerland and the superb Belgian team who like each animated the fleet on the water and especially on land.
editor
Fri, 10/22/2021 - 13:40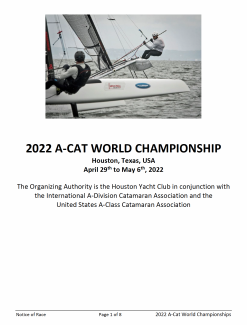 editor
Thu, 10/07/2021 - 19:05
After a careful review, the IACA Committee agrees to the USACA and HYC proposal and is happy to confirm the A-Cat Worlds 2022 to the Houston Yacht Club. Please see the letter from Commodore Fontenot and the attached presentation of the USACA bid. The Notice of Race will follow within a few days.
The IACA Committee wish to thank the organizing team and the Houston Yacht Club for their efforts to host an attractive event !
A letter from Farley Fontenot, Commodore Houston Yacht Club