editor
Thu, 07/21/2022 - 19:38
Dear A-Cat Sailors - Please be informed that we will run an extraordinary WGM in Arco Del Garda. September 10th @ 19.00.
As for the Constitution, we have 3 official proposals that will be voted in Garda. They are :
1. Change of Constitution to relocate the IACA.
2. USACA's proposal to delete Rule 16 from IACA Championship Rules.
3. Poland's proposal to change Class Rules E.3 and E.4.
editor
Tue, 06/14/2022 - 17:35
Following the Mid Year Meeting of World Sailing, the submission to delay the "M07-22 / RRS 50.1(c) – Quick Release Trapeze Harness" implementation, due to start in Jan 2023, has been postponed, upon the request of many classes including ours, and it has been accepted by World Sailing during their Mid-Year-Meeting 2022. As such, the Rule 50.1(c) now does not take effect until 1 January 2025. The ERS (Equipment Rules of Sailing) will be amended by World Sailing as well.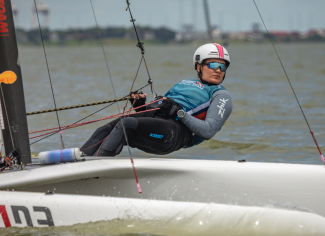 editor
Fri, 06/10/2022 - 15:16
EQUIPMENT REGULATIONS
1. General Requirements
1.1 All boats and equipment entered in the European Championships may be inspected at any time for compliance with the relevant rules including Class Rules and these Equipment Regulations (ER), defined collectively as the "Event Equipment Rules".
1.2 Boats shall be kept in the assigned boat park.